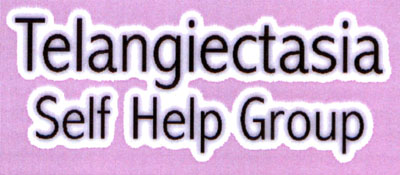 The Telangiectasia Self Help Group was founded in 1985 to maintain a register of sufferers and to put affected families in touch with one another.
The group was initially funded by a donation from the Thames/LWT Telethon Trust. A newsletter is sent to all members on an occasional basis informing them of the developments in the treatments of this disease.

Hereditary Haemorrhagic Telangiectasia
( HHT ) also known as Osler-Weber-Rendu disease, was first described over 100 years ago. It is due to a faulty gene and is very variable causing some people considerable distress whilst others escape with much less severe problems. For many patients, nosebleeds are the main problem although bleeding from the lining of the stomach and intestines occurs in about 20% of cases.
For further information or if you wish to become a member please contact :
Mrs Diana Lawson
Co-ordinator/Organiser
Telangiectasia Self Help Group
39 Sunny Croft
Downley
High Wycombe
Bucks
HP13 5UQ
ENGLAND
Tel : (+44) 01494 528047
or alternatively E-mail:
The Telangiectasia Self Help Group is affiliated to the following Support Groups :